An old guy once told me life was too short to just own ugly Kydex holsters. From USPSA matches to concealed carry you'll see Kydex holsters, and for good reason. Kydex holsters are popular because they work.
A good holster needs to do three things. A good holster needs to securely hold the firearm. It needs to completely cover the trigger guard. And it needs to be comfortable. A good Kydex holster will do all those things and there are many from which to choose. What a Kydex holster generally won't do is look good.
Enter the leather holster. A leather holster will accomplish the primary three tasks and look good doing them. Gun owners know that the fun is in the shooting. Those of us who own firearms also know that there is much pleasure to be derived in the purchasing and owning of the guns. We become collectors.
Guns can certainly be considered tools or pieces of equipment, but they are also works of art. Who doesn't open the safe from to time to just admire the collection? The lines and machining of the metal parts. The richness and grain of the wood stocks on shotguns and rifles. The feel of the mechanical operation of a good revolver.
Leather holsters also offer their owners a certain level of enjoyment. The smell and feel of fine leather. The look of a well tooled holster. The comfort and fit of a well made leather holster. These may also be considered works of art.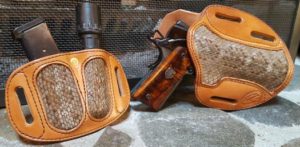 I first considered leather holsters while taking a class at Gunsite Academy in Paulden Arizona. One of the staff was wearing a beautiful tan leather holster with a rattlesnake skin inlay. The holster was made by Simply Rugged Holsters. I haven't yet been able to justify a rattlesnake holster for myself, but I now own three Simply Rugged holsters.
Simply Rugged Holsters was founded by Rob Leahy in 2004. Today Rob, his wife Jan, and the Simply Rugged crew make some of the best hand made leather holsters available. They make holsters intended for both concealed and open carry. Each holster is crafted to fit your specific firearm. Customer service is excellent, and you'll have the opportunity to interact with Rob himself should you need to contact the company.
My holsters are shown in the photos used with this article. The black one is a DEFCON 3 holster and can be used IWB/OWB. For me it works best OWB with a cover garment. The tan one is the CUDA model and is an outstanding OWB rig. The one with the Celtic Knot/Basket Weave pattern can also be used IWB/OWB. I find it works wonderfully OWB with a cover garment (or without for those living in Free America).
Guns should be fun and enjoyable. Cool leather holsters enhance that experience. Fortunately, there are many sources of fine handmade leather holsters, Simply Rugged is just one. Take your guns out of the safe and enjoy them. Explore handmade leather holsters and add to the experience. Life is too short to just own ugly Kydex holsters.
The right to self-defense is a basic human right. Gun ownership is an integral part of that right. If you want to keep your rights defend them by joining San Diego County Gun Owners (SDCGO) in San Diego, Orange County Gun Owners (OCGO) in Orange County, or Riverside County Gun Owners (RCGO) in Riverside. Support the cause by listening to Gun Sports Radio live on Sunday afternoon or on the internet at your leisure. Join the fight and help us restore and preserve our second amendment rights. Together we will win.
©2019 Joseph T Drammissi